Local Locksmith in Netley Abbey
Lock It Security is your local UPVC lock repair experts, offering a range of professional locksmith services in Netley Abbey and throughout the surrounding areas.
Lock It Security is a family-owned locksmith company that has been serving the residents and businesses of Netley Abbey and its surrounding areas for many years. Run by Eddie, an expert in UPVC lock, we take pride in our outstanding reputation for providing exceptional locksmith services.
Our priority is customer satisfaction, and we offer a wide range of locksmith services to cater to all of your lock-related needs. If you are experiencing problems with your UPVC door locks, we can provide you with comprehensive repair and replacement services, including the fitting of new locks and door realignment, to ensure that your home or business is secure.
In addition to our door lock services, we also specialise in repairing UPVC window locks. We appreciate the inconvenience of having malfunctioning window locks and offer fast and efficient repair services to restore the functionality of your windows. Our expert team can fix any problem with your UPVC window locks and hinges, ensuring that your windows are fully operational once again.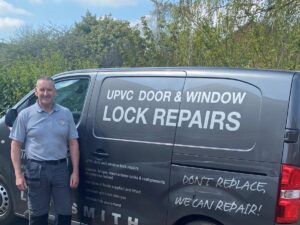 UPVC Lock Repairs Netley Abbey
At Lock It Security, we understand the significance of reliable door and window locks in ensuring the safety of your property. That is why we always use the highest quality tools and equipment to ensure that our work is of the highest standard. Our priority is your security, and we offer a wide range of expert locksmith services to cater to your needs, including lockouts, lock repairs, lock upgrades, replacement locks, door repairs, and home and business security surveys.
We specialise in uPVC window and door locks and provide commercial locksmith services as well. Our team of professionals is always available to offer free quotations, ensuring transparency and clarity in our pricing. At Lock It Security, we take pride in our competitive rates and no call out fee, providing you with excellent value for your money when you choose us for your locksmith needs.
Why Choose Lock It Security?
At Lock It Security, we use only the highest quality tools and equipment to ensure that our work is always done to the highest standard. We appreciate the importance of having door and window locks you can rely on and the security of your property is our priority. Our wide range of expert locksmith services include:
Lock outs
Lock repair, upgrades and replacement locks
Door repairs
Home and business security surveys
Commercial locksmith services
Free quotations
With our competitive rates and no call out fee you can rest assured that when you call Lock It Security you're getting a superior service that represents fantastic value for money.
Locksmiths Netley Abbey
At Lock It Security, we provide prompt and efficient locksmith services for businesses, homeowners, and tenants in Netley Abbey and its surrounding areas. As a trusted local locksmith, we are committed to delivering a quality experience every time. If you have found yourself locked out, lost your keys and require new locks, or want to enhance the security of your door and window locks, our friendly team is ready to assist you.
Contact us today to find out more about our services and how we can help you secure your home or business.
Areas we cover…
As one of the leading independent, family locksmiths in Netley Abbey, you will be pleased to know we cover most towns surrounding the Netley Abbey area.
To find out if we provide locksmiths services in your area, click here to visit our location page.
Eddie was able to fit me in within a few days of my call, to look at and fix a bi fold door which was not closing correctly. He arrived on time and quickly fixed the problem for a fair price. Eddie was very friendly and professional so I would highly recommend him.
SAMOERE GAMING
18 March 2023
Eddie was very helpful and managed to fit me in within a day, the jobs was changing a lock and it is perfectly flush with the door. I am really happy with the work. Highly recommend. Sam
Paul Godfrey
19 February 2023
Eddie replaced the faulty lock on my front door and did a really thorough job to make sure the new one worked perfectly. He is polite and professional and on time. Highly recommended.
George Cooper
20 January 2023
My patio door lock mechanism was temperamental. Really pleased with the repair and grateful to Eddie for coming out within a day or so even though it was a non urgent repair. Many thanks :)
John Newton
12 January 2023
Eddie reconfigured and fitted a new lock and handle to our front door. He turned up on time, completed the work quickly, leaving everything neat and tidy when he left - a completely professional and polite service!
Louise Crozier
8 December 2022
Eddie sorted my UPVC front door, Gave it an MOT and changed the locking barrel, Explained as he went and got the door fully functioning in no time. Thanks Eddie
Richard Neve
23 November 2022
Fixed the Front Door Locking Bolts, now Door fully secure
Yvonne Bound
18 November 2022
Eddie arrived on the day agreed. He assessed the problem and carried out the work immediately. The price quoted was very reasonable and we would be very happy to recommend him.
Paul Lamb
10 November 2022
Eddie was able to come to fix my door really quickly. He gave me a price that I was happy with and fixed it there and then. He did a nice job and was also friendly and helpful. I'll use him again. Recommended.
Catherine Peiro
17 October 2022
Eddie came to repair my mum's front composite door today, which had slipped due to the original supplier's poor work. Eddie is extremely professional, polite and his work is exemplary. My mum now has a door which works and is fitted properly. Very happy! Thanks, Eddie. Highly recommended :-)
Fill in the form below for a free no obligation quote
Need a quotation from us? Fill in the form below and we'll get back to you within 24 hours